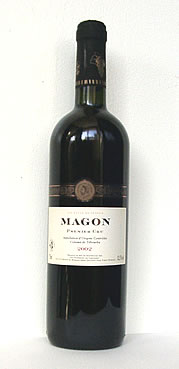 The grapes are hand harvested and the wine is made traditionally with controlled temperatures. Maceration takes fifteen days to ensure the maximum aromas, colours and tannins are extracted. The wine is then aged in underground vats.

Visual: Brilliant red appearance with shades of purple.
Nose: A powerful nose, fruit with a touch of raisin and currants.
Taste: A pleasant, smooth and subtle taste with notes of forest fruits and a hint of vanilla. A beautiful length and pleasant rounded finish.

Vintage: 2011
Origin: Tunisia
Producer: UCCV
Color&Type: Red wine, midium body
Bottle: Bordeaux type, 750ml
Degree: 13% vol.
Varietals: Carignan, Syrah
Ideal Serving Temperature: 15 ¡ëC - 16 ¡ëC

Price:
1bottle: 1,260 yen (Ref.No. V-002)
1 carton (12 bottles): 13,600 yen ( 1,134 yen / 1 bottle) (Ref. No. V-013) Shipping Free!