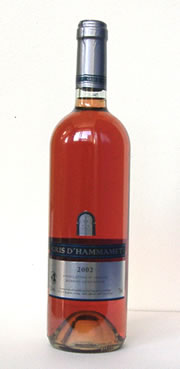 The vineyards from which this splendid "Gris" wine results are cultivated in the plains of Mornag and Takelsa. The wine is a result of an interesting combination of these two areas within the AOC Mornag. This area is characterized by a mild climate, a mild and wet winter and a fresh, dry summer. Viniculture in this area dates from the Carthage era, 9 th century B.C, a time when Carthage was known as the granary and the cellar of Rome.

This quality "Gris" wine starts with the grapes being hand harvested. After being chilled, the free run juice is cleansed at 7¡ëC- 8¡ëC for 12 hours in stainless steel vats. Alcoholic fermentation takes place at 12¡ëC for 15 days.

Visual: A pale rose with hints of peeled onion.
Nose: Very floral followed by fruit, pear and peach.
Taste: Sharp, expressive, an intense freshness and its smoothness also make this wine a perfect accompaniment to fish and seafood.

Vintage: 2012
Origin: Tunisia
Producer: UCCV
Color&Type: Rose wine
Bottle: Bordeaux type, 750ml
Degree: 12 % vol.
Varietals: Cinsault, Grenache, Syrah, Merlot
Ideal Serving Temperature: 11 ¡ëC- 12 ¡ëC

Price:
1bottle: 1,300 yen (Ref.No. V-006)
1 carton (12 bottles): 14,800 yen ( 1,234 yen / 1 bottle) (Ref. No. V-017) Shipping Free !